People
Anne Gadwa Nicodemus, Principal
As a researcher, writer, speaker, and advocate, Anne Gadwa Nicodemus tells stories through narratives and numbers. Her favorite muse is creative placemaking.  She's fascinated by all kinds of places—their form, their people, their change. A choreographer/arts administrator turned urban planner, Nicodemus is a leading voice in the intersection of arts and community development.
Nicodemus co-authored Creative Placemaking, the report for the Mayors' Institute of City Design (2010) that defined the field. Her journal articles "Fuzzy Vibrancy" (Cultural Trends, 2013) and "Creative Placemaking: How to Do it Well" (Community Development Investment Review, 2014) look more deeply at creative placemaking as cultural policy and its ethics and practical challenges.
Nicodemus has also contributed to the intersection of arts, culture, and community development through other works. Her How Art Spaces Matter reports (for Artspace Projects, 2010 and 2011) reveal the benefits of art spaces to artists' careers and communities, including anchoring arts districts, expanding arts access, and boosts to safety, livability, tax rolls and property values. Her current Metris projects take her from Harare, Zimbabwe to a small city in Minnesota. She's working both on a case study of how creative spaces foster activism in repressive regimes for an international development organization and an arts and culture plan for the City of Grand Rapids, MN. Nicodemus and Ann Marksuen's "Arts and Culture in Urban and Regional Planning: A Review and Research Agenda" (Journal of Planning and Education Research, 2010) was the most downloaded of that journal's articles in 2009 and 2010. They also recently contributed a chapter to Creative Communities: Art Works in Economic Development (Brookings Institution Press, 2013). Nicodemus' short writings have also appeared in publications including Grantmakers in the Arts: Reader, Createquity.com, Minnesota Public Radio News, and LISC's Institute for Comprehensive Community Development.
Nicodemus speaks widely on creative placemaking and artist spaces, giving frequent talks at universities and professional conferences nationwide, and as far-flung as Macau, China and Ontario. She was recognized as one of the nation's 50 most influential people in the nonprofit arts in 2012, 2013, and 2014.
Nicodemus holds a Masters of Urban and Regional Planning from the University of Minnesota's Humphrey School of Public Affairs and a B.A. in dance and biology from Oberlin College.
Nicodemus grew up in suburban Connecticut; went to college surrounded by the cornfields of Ohio; and lived, danced, and worked in New York City and Minneapolis for years. Her family hails from central Long Island's north shore, where she grew up spending summers on one of its last remaining farms. Recently, she's laid down roots in Easton, PA where she lives with her wife Julia, one dog, and two cats. Email: gadwa@metrisarts.com. Download full CV.
Rachel Engh, Research Associate
Urban Planner Rachel Engh's core competencies lie in evaluation and cultural planning. Prior to joining Metris Arts Consulting, she supported the City of Minneapolis' arts and cultural planning process, created an evaluation plan for a large-scale public art project (Pillsbury House + Theatre), and collaborated on PlaceBased Productions' efforts to tell the stories of site-specific theater in rural communities. She's contributed articles to Createquity and Americans' for the Arts' ARTSblog. Engh holds a Masters of Urban and Regional Planning from the University of Minnesota's Humphrey School of Public Affairs and a B.A. in Sociology from Grinnell College.
Lea Cho, Administrative Associate
Lea Cho joined Metris Arts in 2015 to provide wide-ranging administrative support, working directly with principal Anne Gadwa Nicodemus to coordinate day-to-day operations, aid in special projects, and ultimately enhance the Metris team's ability to provide exceptional work to its clients. Cho's diverse background combines 10 years of professional administrative experience with 11 years of engagement with grassroots creative arts communities in the US and abroad. She holds a B.A. in anthropology and linguistics from New York University and has developed a lifelong career as a musician, having recorded numerous albums, toured around the world, and performed in such diverse settings as Carnegie Hall, international festivals, museums, rock clubs, and alternative community art spaces. Prior to moving to the Lehigh Valley, she lived in New York City for 11 years and witnessed firsthand the life cycle of many transitory creative spaces, leading to a deep personal interest in the issues surrounding arts communities and creative placemaking.
---
Ann Markusen, Collaborating Researcher
Ann Markusen is Principal of Markusen Economic Research and Director of the Project on Regional and Industrial Economics at the University of Minnesota's Humphrey School of Public Affairs. Markusen's recent research and writing on artists, arts organizations and creative placemaking include: How Cities can Nurture Cultural Entrepreneurs (2013), Diversifying Support for Artists (2013), Arts, Consumption and Regional Development (2013), Artists Work Everywhere (2013), City Creative Industry Strategies (2012), Working with Small Arts Organizations (2012), California's Arts and Cultural Ecology (2011), Nurturing Next Gen Arts and Cultural Leaders (2011), Creative Placemaking (2010), Los Angeles: America's Artist Super City (2010); Native Artists: Careers, Resources, Space, Gifts (2009), San JosĂ© Creative Entrepreneur Project: Final Report and Recommendations (2009), Crossover: How Artists Build Careers across Commercial, Non-profit and Community Work (2006), Artists' Centers (2006), and The Artistic Dividend (2003) as well as more than a dozen academic and popular articles on artists and the arts. Markusen is a frequent keynote speaker on arts, cities, creative placemaking, and economic development, serves on the National Advisory Committee for the Strategic National Arts Alumni Project, and actively consults with international, national, state and local governments and nonprofits on creative placemaking and support for artists. She earned a Bachelor's Degree in Foreign Service at Georgetown University and an M.A. and Ph.D. in Economics at Michigan State University, and has taught at the Universities of Minnesota, Colorado, California Berkeley, Northwestern and Rutgers in City and Regional Planning. Winner of the 2006 Alonso Prize in Regional Science, she has served as North American Regional Science Association President, Council on Foreign Relations Senior Fellow and AAAS Committee on Science, Engineering and Public Policy Chair. Email: markusen@umn.edu
Lynn Osgood, Collaborating Urban Designer/Planner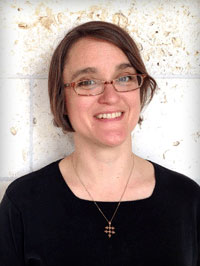 Lynn Osgood is an urban designer and planner whose work explores the intersection of public space, community engagement, and the arts. She is partner of GO collaborative (Austin, TX), a firm with which Metris Arts Consulting strategically partners on cultural planning and community engagement projects. Lynn started her career in urban design and planning in New York City with the United Nations and focused on the Habitat II Conference on Human Settlements. Moving to Austin in 2003, Lynn became Adjunct Faculty at the University of Texas where she taught graduate design studios in landscape architecture for two years. Moved by a desire to do research on engagement and the public realm, she "switched-hats" and began the doctoral program in Community and Regional Planning. Her current research focuses on the creation and maintenance of public spaces through various social, political and artistic processes. Recently she has directed the National Endowment for the Arts Your Town project in Mart, Texas where theater, digital and visual arts were used to structure a three day planning charrette. Within the City of Austin, Lynn currently serves on the Austin Parks and Recreation Board. Previously, she served for five years on the Art in Public Places Panel. Additionally, she has been a member of the Downtown Commission, the Waller Creek Citizen's Advisory Committee, and the CreateAustin Planning Task Force. In collaboration with UT Austin Law School Faculty and the City of Austin Parks and Recreation Departments, she recently published the Urban Parks Workgroup Report, which outlines policies and steps needed to achieve open space for all Central Austin citizens within a quarter mile of their residence.