Clients
"Highly regarded and respected, with impeccable credentials, she [Anne Gadwa Nicodemus] is everywhere on the research stage now. Known for her rigorous and exacting work product, she gets into the issues and isn't afraid to voice strong thoughts, take stands and question methodologies and results."
—Barry's Blog: 2014 Fifty Most Powerful and Influential People in the Nonprofit Arts (USA)
Metris Arts Consulting works with a range of clients from across the country and internationally, including philanthropic foundations, government agencies (local to federal), and arts and community development nonprofits. We view our clients as close partners and seek out collaborations with critical learners doing innovative and interesting work.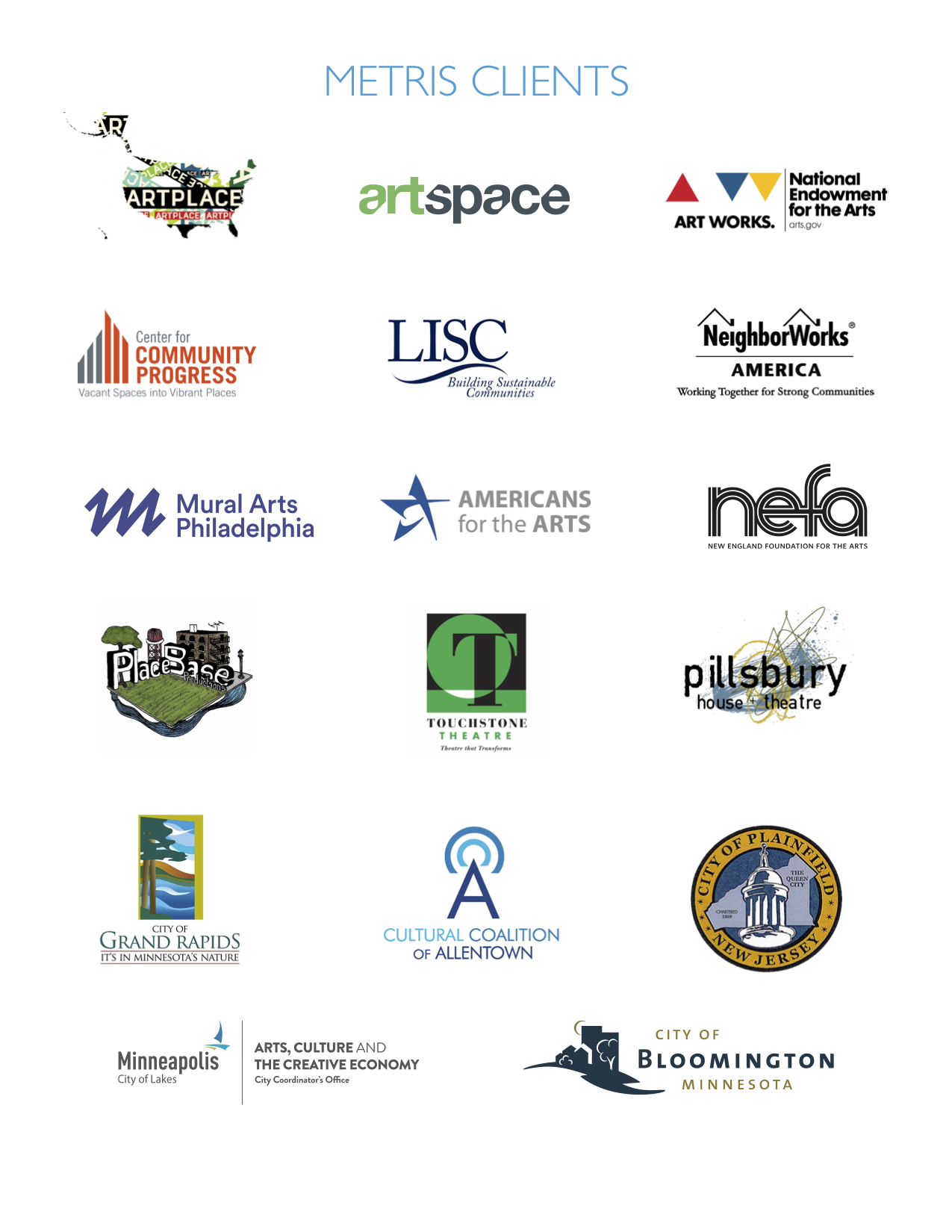 Our major clients and research sponsors to date include Americans for the Arts, Arts Cleveland, Artplace America, Artspace, Bush Foundation, Center for Community Progress, the City of Carlsbad, CA, the City of Minneapolis, Hennepin Theatre Trust, Hivos, the Hong Kong Institute of Contemporary Culture, John S. and James L. Knight Foundation, Kresge Foundation, LINC, LISC, NeighborWorks America, National Endowment for the Arts, New England Foundation for the Arts, Pillsbury House + Theatre, Robert Wood Johnson Foundation, the University of Houston, the Urban Institute, Touchstone Theatre.
With our strategic partners, Markusen Economic Research, GO collaborative, and the Project on Regional and Industrial Economics, we have also completed projects for the Center for Cultural Innovation, the City of Grand Rapids, the City of San José Office of Cultural Affairs, Creative Capital, the James Irvine Foundation, and the Mayors Institute on City Design.