Clients
"I/we cannot thank you enough. GRMN Creates never was placed on a shelf. It is referred to constantly. Each year we use it to set new goals. Starting out, I think the City government was a bit leery. Also out of all the consultants we have worked with through this process, you were the best. You spent so much time coming from afar to get to know us. Thank you soooo much."
'ÄĒKathy Dodge, former Chair of Grand Rapids Arts and Culture Commission
Metris Arts Consulting works with a range of clients from across the country and internationally, including philanthropic foundations, government agencies (local to federal), and arts and community development nonprofits. We view our clients as close partners and seek out collaborations with critical learners doing innovative and interesting work.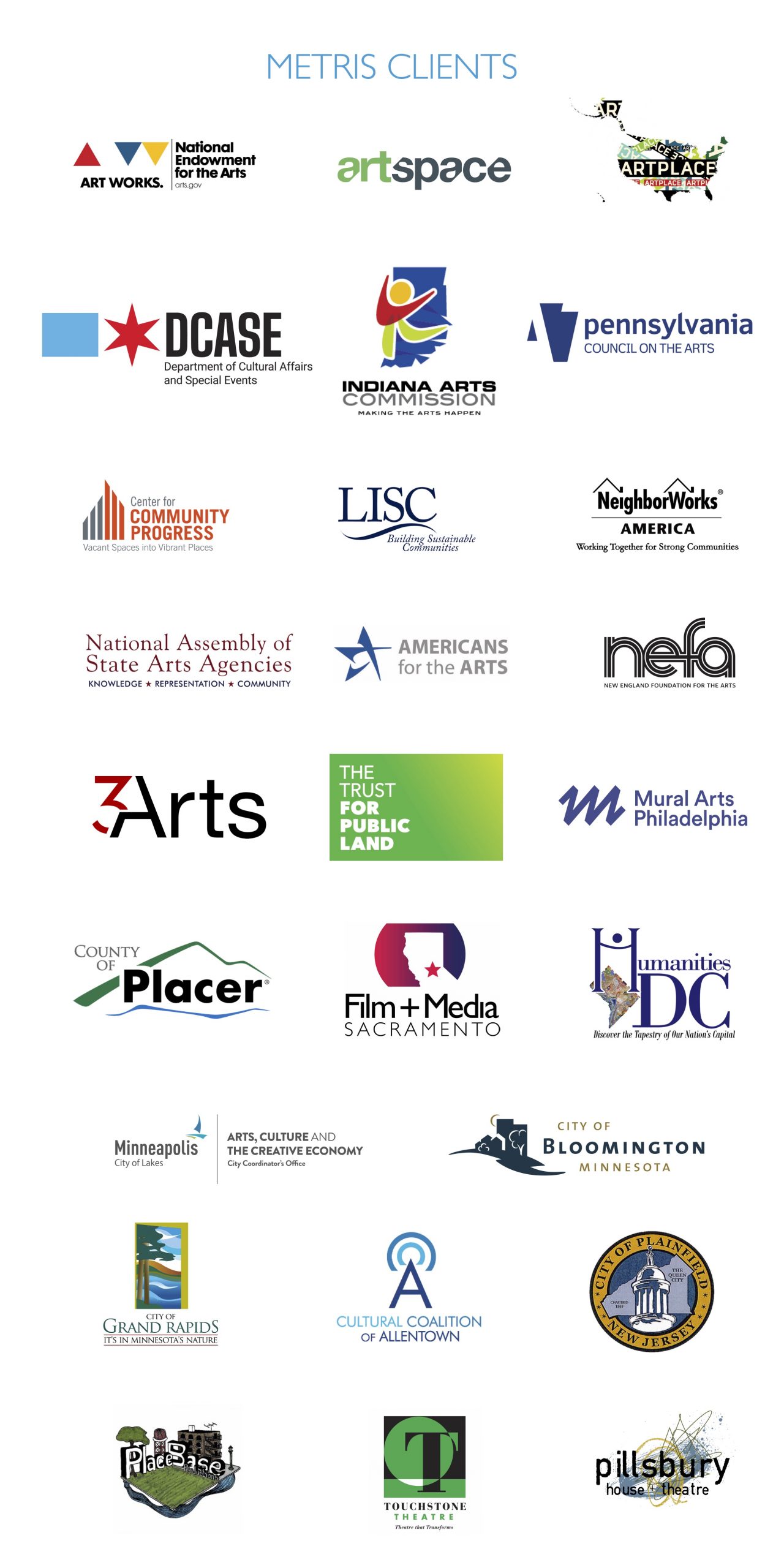 A selection of our clients and research sponsors to date include 3Arts, Americans for the Arts, Arts Cleveland, Artplace America, Artspace, Bush Foundation, Center for Community Progress, the City of Chicago, City of Minneapolis, City of Sacramento, CA, Hennepin Theatre Trust, Hivos, the Hong Kong Institute of Contemporary Culture, HumanitiesDC, Los Angeles Department of Arts and Culture, Indiana Arts Commission, Intermedia Arts, John S. and James L. Knight Foundation, Kresge Foundation, League of Chicago Theatres, LINC, LISC, NeighborWorks America, National Assembly of State Arts Agencies, National Endowment for the Arts, New England Foundation for the Arts, Pennsylvania Council on the Arts, Pillsbury House + Theatre, Placer County, CA, PolicyLink, Robert Wood Johnson Foundation, Touchstone Theatre, Trust for Public Land, the University of Houston, the Urban Institute.
With collaborators Markusen Economic Research, GO collaborative, and the Project on Regional and Industrial Economics, we have also completed projects for the Center for Cultural Innovation, the City of Grand Rapids, the City of San José Office of Cultural Affairs, Creative Capital, the James Irvine Foundation, and the Mayors Institute on City Design.