Mural Arts Institute Learning Synthesis (Current)
In the summer of 2018, Mural Arts Philadelphia (Mural Arts) engaged Metris to support capacity building for its recently launched knowledge-sharing initiative, the Mural Arts Institute. Through the Institute, Mural Arts hopes to better be able to respond to requests for technical assistance and knowledge from municipalities, artists, arts administrators, and community representatives from across the country and internationally, as well as strengthen its own innovative practices. Metris first fleshed out the methods, goals, and audiences of the learning synthesis effort. Now, in collaboration with Mural Arts and its stakeholders, Metris will identify exemplary practices embedded in past projects and develop a range of materials to support Mural Arts Institute activities.
Our Town Program Evaluation (Current)
From 2011 through 2017, the National Endowment for the Arts (NEA) awarded $36.5 million to support creative placemaking projects nationwide through its Our Town grants program. In 2016, the NEA initiated a two-phase evaluation for Our Town. Metris Arts Consulting supported the prime consultant, 2M Research Services (2M), in both phases of this work. For Phase 1, Metris principal Anne Gadwa Nicodemus served as a thought partner and creative placemaking evaluation content expert. Nicodemus collaborated on the development of an Our Town theory of change; program-level logic model; and sample, grantee-specific logic models that integrated a range of methods and data sources developed and analyzed by 2M. Phase 2 launched in early 2018. It explores how well Our Town projects align with these theories and models and will inform needed adjustments to better support grantees and achieve program goals. For Phase 2, Nicodemus is spearheading three case studies that explore whether and how Our Town projects foster sustained support and recognition of arts, design, and cultural strategies as integral to community planning and development.
Moving Dance Forward (2016)
This st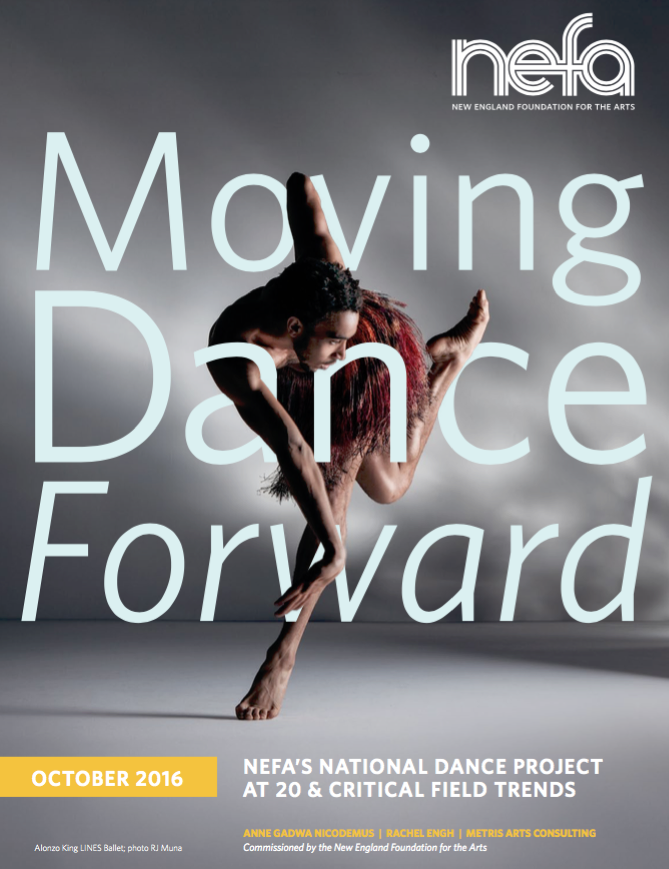 udy evaluates the historic contributions of the New England Foundation for the Arts' National Dance Project to the development of the dance field. It investigates how choreographers today create their work, economically sustain themselves, and their motivation for touring. The research will help NEFA create an informed strategy for future programming and streamline its evaluation techniques.
Creative Capital Artists Look Back (2016)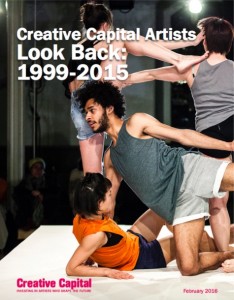 In collaboration with Ann Markusen, Metris Arts surveyed artists who received Creative Capital awards from 2000 to 2013 to explore the impact of the support on the artists' creative work and professional success. Findings indicate that Creative Capital is an ambitious and successful experiment. The awards offer artists financial support to pursue creative work as well as opportunities to learn from colleagues and collaborate with artists and others in non-arts fields. The retreats help them develop career-planning strategies bolstered by an array of services and professional staff available to them over the period of their awards. The findings of the survey offer insights for other nonprofit and public sector artist support initiatives.
Download pdf: Full Report
Adding It Up (2016)
Me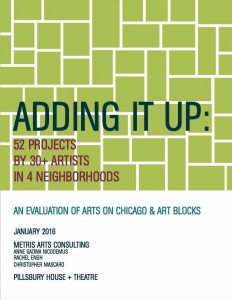 tris Arts evaluated two of Pillsbury House + Theatre's recent "creative community development" projects, Art Blocks and Arts on Chicago. These projects supported over 30 community-based artists to engage their neighbors in creating art on the blocks where they live and in events and performances occurring in the four neighborhoods surrounding this unique hybrid arts hub/social service provider. The evaluation focused on whether and how these projects increased levels of residents'Äô community attachment, agency, and arts and cultural access.
Read Online | Download pdfs: Executive Summary | Report | Technical Appendix
How Creative Spaces Foster Civic Engagement (2015)
Conducted in collaboration with Zimbab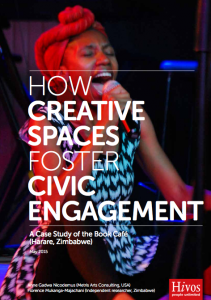 we-based researcher, Florence Mukanga-Majachani, this case study explores how the Book Caf√© has fostered activism and civic engagement in Zimbabwe. Findings suggest that the Book Caf√© fosters civic engagement and activism through four main channels. It provides platforms for freedom of expression and debate. It empowers marginalized groups, specifically women and youth. It fosters connections and collaborations by serving as a meeting ground. Lastly, it nurtures art and artists committed to socially relevant work. The Book Caf√© offers a number of lessons to others interested in cultivating creative spaces to foster civic engagement in repressive contexts. Interviewees saw five values and offerings as instrumental to deepening the Book Caf√©'Äôs stewardship of civic engagement and activism: cultivate a sense of 'Äėhome'Äô for participants; offer an eclectic mix of activities; maintain a staunch commitment to freedom of expression; demonstrate integrity, persistence, and savvy in the face of political repression; and strive for relatively autonomous funding streams and spaces. Commissioned by Hivos.
Read Online | Download pdf: Full Report
Cutting Teeth on Creative Placemaking: Southeast Houston Arts Initiative (2012)
Cutting Teeth explores lessons learned through the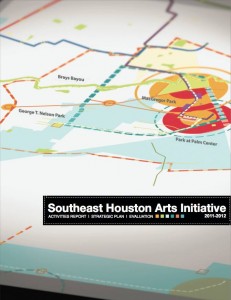 Southeast Houston Arts Initiative. This creative placemaking planning process led by a University of Houston professor sought to create a unified vision for Southeast Houston by bringing together artists, architects, graphic designers, civic stakeholders, and area residents. This in-depth evaluation looks candidly at challenges and successes throughout the process, and initial impacts. A case study of the Southeast Houston Arts Initiative was recently featured in the National Endowment for the Arts' new online resource: Exploring Our Town.
Read Online | Download pdfs: Evaluation | Full Report (Activities, Strategic Plan, Evaluation)
How Art Spaces Matter II (2011)
How Artist Space Matters (2010)
| | |
| --- | --- |
| | |
The How Artist Space Matters reports reveal art spaces' benefits to artists' careers and communities, including boosts to safety, livability, tax rolls and property values, and anchoring arts districts and expanding arts access. How Art Spaces Matter II (2011) integrates findings from four cities and five case studies (artist live/work and studio buildings and mixed-use projects), with detailed analyses of the Tashiro Kaplan Artist Lofts (Seattle, WA) and Riverside Artist Lofts (Reno, NV). Its predecessor, How Artist Space Matters (2010) addresses long-term impact and sustainability through in-depth case studies of three early Twin Cities artist spaces: the Northern Warehouse Artists' Cooperative (St. Paul, MN), the Tilsner Artists' Cooperative (St. Paul), and the Traffic Zone Center for Visual Art (Minneapolis, MN). They offer tangible lessons learned on what factors influence successful outcomes, so that developers, city officials, funders, and arts communities can create stronger art spaces with wide-reaching impacts. Commissioned by Artspace Projects, a leading nonprofit real estate developer for the arts, with support from Leveraging Investments in Creativity (LINC) and Bush Foundation.
Read Online (I) | Read Online (II) | Download pdfs:  How Artist Space Matters | How Art Spaces Matter II | Press Release | Summary by Artspace