Minneapolis Creative Index 2015 (2016)

For the City of Minneapolis' Arts, Culture and the Creative Economy Program, Metris Arts produced the Minneapolis Creative Index 2015. Building on 2013 and 2014 reports, it highlights annual changes in the economic health of Minneapolis' creative sector by tracking creative industry sales, nonprofit revenues, and occupations. In keeping with the City of Minneapolis' commitment to gender and racial equity, the report also includes conversations with six creative workers of color: architectural professionals and producers & directors. These occupations have greater disparities for people of color (as well as women) than the average labor force in Minneapolis' metro area but are also "good jobs," meaning that they're growing and pay high hourly wages. In these conversations, we explored barriers to and opportunities for people of color to succeed in these jobs in Minneapolis.
Download pdf: MCI 2015 Report
Track-It Hennepin (2012)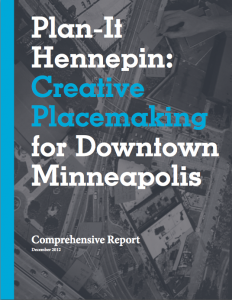 Metris Arts led the development of a local indicator system to support Plan-It Hennepin, a year-long creative placemaking initiative to re-imagine Minneapolis' Hennepin Avenue as a revitalized cultural corridor from the Sculpture Garden to the Mississippi River. Through Track-It Hennepin, stakeholders will monitor progress reaching long-term goals. Plan-It Hennepin is led by partners Hennepin Theatre Trust, Walker Art Center, Artspace and the City of Minneapolis and funded by a National Endowment for the Arts "Our Town" grant. Plan-It Hennepin was recently featured as a case study in the National Endowment for the Arts' new online resource: Exploring Our Town.
Download pdfs: Track-It Hennepin (indicator system) | Plan-It Hennepin (cultural district plan) | Plan-It Hennepin Appendicies