Literature Reviews
Social Impact Pilot Project: Arts, Health, and Well-being (2018)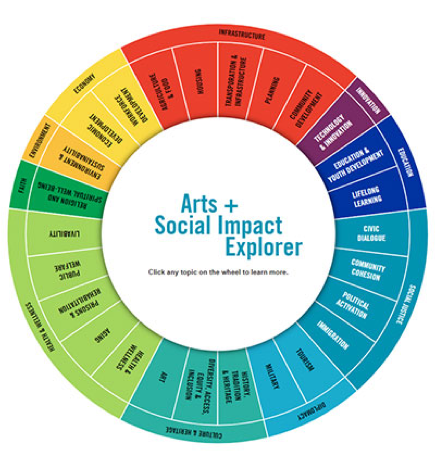 In May 2018, Americans for the Arts engaged Metris Arts Consulting (Metris) and Topos Partnership (Topos) to explore what promotes appreciation of the role of the arts in personal and community health and wellness, among members of the general public. The pilot project is a strategic partnership, drawing on Metris' arts and well-being research experience and Topos' expertise in communications research on a wide range of issues, including the arts. The pilot will inform possible future message-testing and advocacy efforts by Americans for the Arts to achieve the vision of the arts being recognized as integral to the lives of all people and essential to healthy, vibrant, and equitable communities across the nation. The pilot includes three components: (1) a summary of research and example projects about the impact of the arts on health and well-being, (2) field research and testing of messages to increase the likelihood of the public supporting funding and policy goals related to arts-health/wellness integrations, and (3) an evaluation of the pilot project to surface implications for expanding the research on a larger scale.
'ÄúWE-Making:'ÄĚ Contributions of place-based arts and cultural strategies to social cohesion (Current)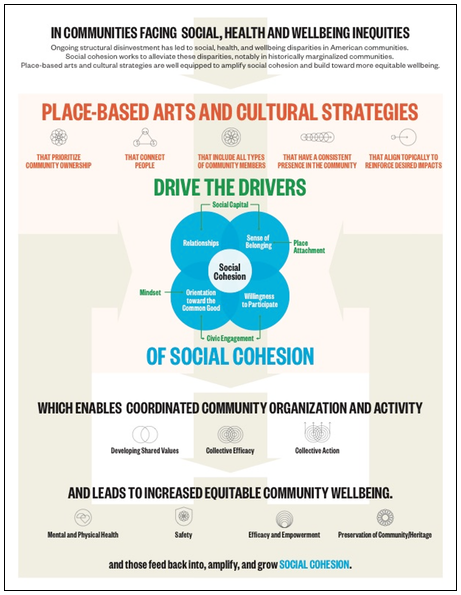 In the summer of 2018, ArtPlace America, along with several other funders (Bush Foundation, John S. and James L. Knight Foundation, The Kresge Foundation, National Endowment for the Arts, and The Robert Wood Johnson Foundation) engaged Metris in an exploration of art, place, and social cohesion. Through a literature review and interviews with a diverse group of practitioners, policymakers, and other key stakeholders, we answered the questions: What is social cohesion? How does it relate to place-based arts and cultural strategies? Who works at this intersection and how? Principles of equitable evaluation informed research questions and project methods. The forthcoming 'ÄúWE-Making:'ÄĚ Contributions of place-based arts and cultural strategies to social cohesion provides resources that a variety of stakeholders, including practitioners, policymakers, researchers, and funders, may find useful to strengthen and accelerate promising practices.