GRMN Creates: an arts and culture roadmap (2015)
Metris Arts and strategic partners GO collaborative and Markusen Economic Research developed a ten-year, strategic arts and cultural plan for the City of Grand Rapids, MN. We connected Grand Rapids with a community-backed, strategic vision that will help to shape all aspects of municipal policy and resource allocation related to arts and culture.
Read Online | Download pdfs: Full Report | Intro & Goals
Cultural plan backs up "creative city" branding (2012)
This commissioned case study reveals how Providence, RI's cultural plan lent gravitas to "creative capital" branding. Politically savvy leaders with diverse talents and skill sets, a thoughtfully crafted planning processes, and robust and inclusive public participation proved of critical importance to Providence's cultural planning effort. Commissioned by the Hong Kong Institute of Contemporary Culture for the Chinese Creative Industries Forum 2012.
Read Online | Download pdf: Cultural plan backs up "creative capital" branding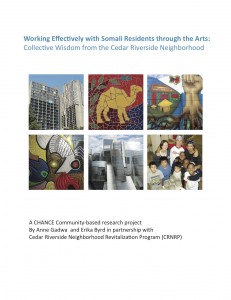 Working Effectively with Somali Residents Through the Arts (2009)
A study examining how the nonprofit, commercial and academic arts sectors can work more effectively with a large concentration of Somali residents in the Cedar Riverside neighborhood in Minneapolis.
Read Online | Download pdf: Working Effectively with Somali Residents Through the Arts