Planning
We help clients equitably advance cultural vitality. We connected Grand Rapids, MN with a strategic vision to shape municipal policy and resource allocation for arts and culture. We lead a creative community development planning process for NeighborWorks America. And, we helped Plainfield, NJ assess converting a former church into a cultural arts and education center. We provide:
Cultural plans for districts, cities, towns & regions
Strategic advice to advance equitable outcomes
Creative community engagement
Arts-based public participation
Cultural asset mapping
Public art planning
Research for cultural facility development
Want to learn more about Metris' cultural planning philosophy? We invite you to read "A Cultural Planning Manifesto," written by principal cultural planner Julie Burros, or listen to the American Planning Association's interview with her for its "The People Behind the Plans" podcast series.
Cultural Asset Mapping 'Äď Year of Chicago Theatre (Current)
The Year of Chicago Theater is a partnership between the League of Chicago Theatres and the Chicago Department of Cultural Affairs and Special Events. 'ÄúYear-of'ÄĚ programs are an expansive city-wide platform through which the City aims to build a stronger, more diverse and inclusive performing arts sector. Metris is collaborating with artist teams to map cultural assets on the South Side and the West Side of Chicago. Artists will develop engagement activities and projects for data collection. Metris is supporting the teams and conducting analysis to inform a series of policy and programmatic recommendations to help build the performing arts sector in underserved areas of Chicago.
Plainfield Cultural Arts Education Center (2018)
The City of Plainfield, New Jersey found itself facing an exciting prospect'ÄĒthe transformation of the soon-to-be-vacated First Unitarian Church into a vibrant, multi-use, cultural arts education center. Metris contributed its experience in cultural planning, cultural facility development, creative placemaking, and municipal arts program development. The City engaged Metris to investigate comparable projects to identify the elements of a successful development, what their operation comprises, and what kind of a public planning process they undertook. Metris conducted a site visit to the First Unitarian Church to better understand the space and the condition of the building. We then researched three successful multi-use arts centers in former sacred or historic spaces. We then developed key findings and recommendations that the City can incorporate into the planning and feasibility process to realize a multi-use cultural arts education center.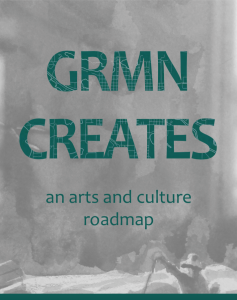 GRMN Creates: an arts and culture roadmap (2015)
Metris Arts and strategic partners GO collaborative and Markusen Economic Research developed a ten-year, strategic arts and cultural plan for the City of Grand Rapids, MN. We connected Grand Rapids with a community-backed, strategic vision that will help to shape all aspects of municipal policy and resource allocation related to arts and culture.
Read Online | Download pdfs: Full Report | Intro & Goals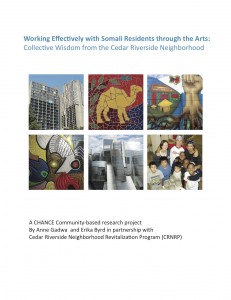 Working Effectively with Somali Residents Through the Arts (2009)
A study examining how the nonprofit, commercial and academic arts sectors can work more effectively with a large concentration of Somali residents in the Cedar Riverside neighborhood in Minneapolis.
Read Online | Download pdf: Working Effectively with Somali Residents Through the Arts