Creative Community Development (2018)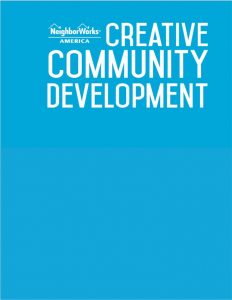 In late 2016, NeighborWorks America engaged Metris Arts Consulting to lead its planning process to better understand how its network of nearly 250 affordable housing and community development organizations uses arts- and culture-based strategies and creative expression to pursue their goals, and the challenges they face doing this creative community development work. Metris completed a network scan that surveyed 75 community development organizations; facilitated 20 interviews and conversations with experts in the field and potential partners; and generated five "Bright Spot" case studies that highlight network organizations' approaches to creative community development. Through a curriculum review, Metris analyzed opportunities, gaps, and potential collaborations in the realm of training for creative community development. Metris also convened regular meetings with the internal work group and stakeholder advisory committees and worked with an artist to plan and execute a day-long convening to share and gather feedback on planning process finding. The planning process culminated in a statement that articulates NeighborWorks America's position, a synthesis of key issues facing community development organizations engaged in this work, and four objectives and detailed strategies that leverage NeighborWorks America's unique strengths to best meet opportunities and critical gaps. Metris also prepared a detailed work plan to guide implementation of NeighborWorks America's creative community development objectives.

GRMN Creates: an arts and culture roadmap (2015)
Metris Arts and strategic partners GO collaborative and Markusen Economic Research developed a ten-year, strategic arts and cultural plan for the City of Grand Rapids, MN. We connected Grand Rapids with a community-backed, strategic vision that will help to shape all aspects of municipal policy and resource allocation related to arts and culture.
Read Online | Download pdfs: Full Report | Intro & Goals
Cultural plan backs up "creative city" branding (2012)
This commissioned case study reveals how Providence, RI's cultural plan lent gravitas to "creative capital" branding. Politically savvy leaders with diverse talents and skill sets, a thoughtfully crafted planning processes, and robust and inclusive public participation proved of critical importance to Providence's cultural planning effort. Commissioned by the Hong Kong Institute of Contemporary Culture for the Chinese Creative Industries Forum 2012.
Read Online | Download pdf: Cultural plan backs up "creative capital" branding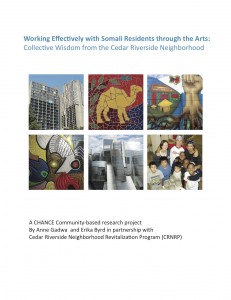 Working Effectively with Somali Residents Through the Arts (2009)
A study examining how the nonprofit, commercial and academic arts sectors can work more effectively with a large concentration of Somali residents in the Cedar Riverside neighborhood in Minneapolis.
Read Online | Download pdf: Working Effectively with Somali Residents Through the Arts