Plainfield Cultural Arts Education Center (2018)
The City of Plainfield, New Jersey found itself facing an exciting prospect—the transformation of the soon-to-be-vacated First Unitarian Church into a vibrant, multi-use, cultural arts education center. Metris contributed its experience in cultural planning, cultural facility development, creative placemaking, and municipal arts program development. The City engaged Metris to investigate comparable projects to identify the elements of a successful development, what their operation comprises, and what kind of a public planning process they undertook. Metris conducted a site visit to the First Unitarian Church to better understand the space and the condition of the building. We then researched three successful multi-use arts centers in former sacred or historic spaces. We then developed key findings and recommendations that the City can incorporate into the planning and feasibility process to realize a multi-use cultural arts education center.
Creative Community Development (2018)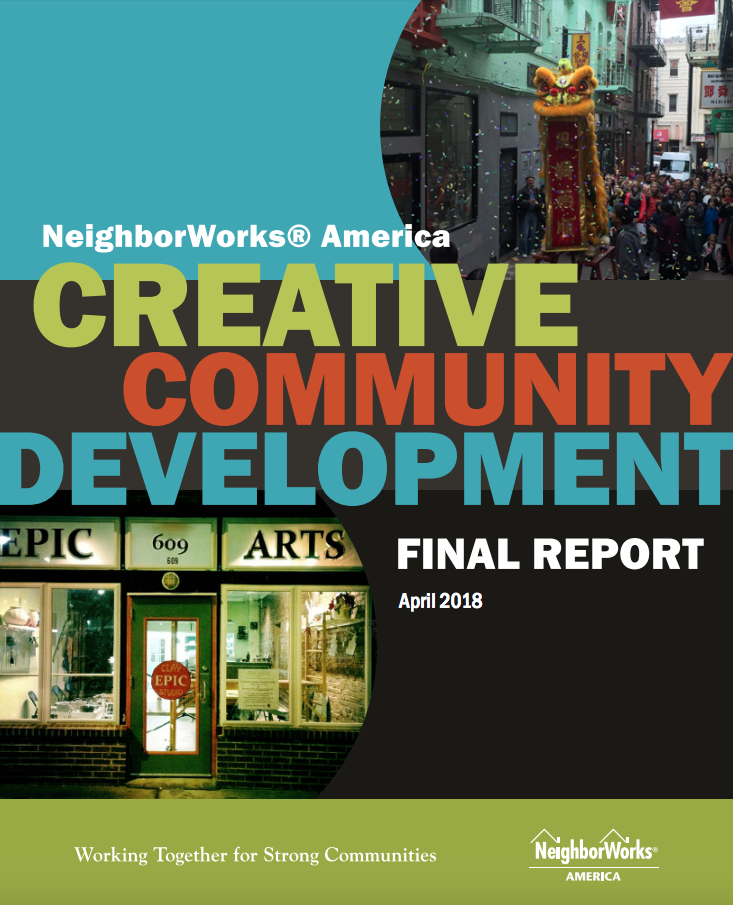 In late 2016, NeighborWorks America engaged Metris Arts Consulting to lead its planning process to better understand how its network of nearly 250 affordable housing and community development organizations uses arts- and culture-based strategies and creative expression to pursue their goals, and the challenges they face doing this creative community development work. Metris completed a network scan that surveyed 75 community development organizations; facilitated 20 interviews and conversations with experts in the field and potential partners; and generated five "Bright Spot" case studies that highlight network organizations' approaches to creative community development. Through a curriculum review, Metris analyzed opportunities, gaps, and potential collaborations in the realm of training for creative community development. Metris also convened regular meetings with the internal work group and stakeholder advisory committees and worked with an artist to plan and execute a day-long convening to share and gather feedback on planning process finding. The planning process culminated in a statement that articulates NeighborWorks America's position, a synthesis of key issues facing community development organizations engaged in this work, and four objectives and detailed strategies that leverage NeighborWorks America's unique strengths to best meet opportunities and critical gaps. Metris also prepared a detailed work plan to guide implementation of NeighborWorks America's creative community development objectives.
Read online | Download pdf | NeighborWorks blog post
Arts Cleveland Strategic Plan (2018)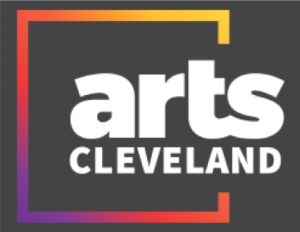 At its milestone 20-year anniversary, Arts Cleveland­–formally Community Partnership for Arts and Culture (CPAC)­–retained Metris Arts Consulting to facilitate development of its next three-year strategic plan. Metris partnered with the firm Cincinnatus to complete the strategic plan. The new plan gives Arts Cleveland's Board of Trustees the most current information on strengths, weaknesses, opportunities, and threats facing the individuals and organizations Arts Cleveland serves, as well as information on perceptions of key stakeholders regarding those strengths, weaknesses, opportunities, and threats. It also establishes Arts Cleveland's organizational direction as related to its mission, vision, goals, and measurable outputs/outcomes. To generate Arts Cleveland's strategic plan, Metris served as a decision assistant, guiding Arts Cleveland to make good strategic decisions and recording the unfolding process. We facilitated a kick-off session with the Board's Strategic Planning Committee and completed an environmental scan. Metris then analyzed the information gathered through the scan, facilitated a strategic planning retreat, and supported development of the strategic plan throughout the Board Approval process.
Creative Placemaking Technical Assistance Cohort Webinar Series (2017)
In late 2016, L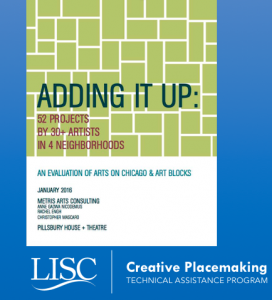 ocal Initiatives Support Corporation (LISC) engaged Metris Arts Consulting to develop, coordinate, and facilitate a series of six monthly webinars for a cohort of 14 organizations and their partners. The cohort received specialized technical assistance with the goal of increasing organizations' abilities to lead successful creative placemaking projects that result in positive short- and long-term outcomes for their communities. Webinar topics, such as creative engagement strategies, communications & storytelling, artists as community organizers, and equity and creative placemaking, stemmed from challenges identified by cohort participants. Metris researched webinar topics and, in partnership with LISC, selected diverse panels of experts for each webinar. Metris then worked with panelists to develop content that would be relevant to the cohort. The webinars included panel presentations and ample question and answer periods, both of which Metris facilitated. Metris then assembled teaching tools and resources from the panelists and distributed them to the cohort after each webinar. Metris staff also served as an expert panelist for the webinar on evaluation, speaking about Adding It Up, Metris' recent work with Pillsbury House + Theatre.

GRMN Creates: an arts and culture roadmap (2015)
Metris Arts and strategic partners GO collaborative and Markusen Economic Research developed a ten-year, strategic arts and cultural plan for the City of Grand Rapids, MN. We connected Grand Rapids with a community-backed, strategic vision that will help to shape all aspects of municipal policy and resource allocation related to arts and culture.
Read Online | Download pdfs: Full Report | Intro & Goals
Track-It Hennepin (2012)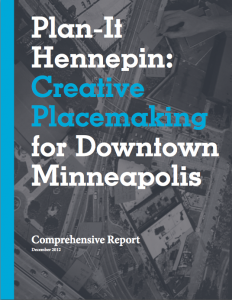 Metris Arts led the development of a local indicator system to support Plan-It Hennepin, a year-long creative placemaking initiative to re-imagine Minneapolis' Hennepin Avenue as a revitalized cultural corridor from the Sculpture Garden to the Mississippi River. Through Track-It Hennepin, stakeholders will monitor progress reaching long-term goals. Plan-It Hennepin is led by partners Hennepin Theatre Trust, Walker Art Center, Artspace and the City of Minneapolis and funded by a National Endowment for the Arts "Our Town" grant. Plan-It Hennepin was recently featured as a case study in the National Endowment for the Arts' new online resource: Exploring Our Town.
Download pdfs: Track-It Hennepin (indicator system) | Plan-It Hennepin (cultural district plan) | Plan-It Hennepin Appendicies
Cultural plan backs up "creative city" branding (2012)
This commissioned case study reveals how Providence, RI's cultural plan lent gravitas to "creative capital" branding. Politically savvy leaders with diverse talents and skill sets, a thoughtfully crafted planning processes, and robust and inclusive public participation proved of critical importance to Providence's cultural planning effort. Commissioned by the Hong Kong Institute of Contemporary Culture for the Chinese Creative Industries Forum 2012.
Read Online | Download pdf: Cultural plan backs up "creative capital" branding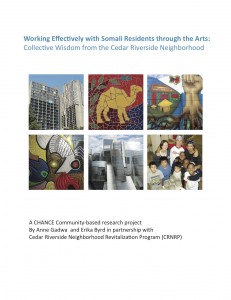 Working Effectively with Somali Residents Through the Arts (2009)
A study examining how the nonprofit, commercial and academic arts sectors can work more effectively with a large concentration of Somali residents in the Cedar Riverside neighborhood in Minneapolis.
Read Online | Download pdf: Working Effectively with Somali Residents Through the Arts